Operational Development
WHAT IS THE OPERATIONAL DEVELOPMENT PROCESS (OD)?

OD is a management model that identifies and focuses strategic challenges and to enable a flow of improvements to continuously be imlemented where all employees participate. More than 30.000 employees at AB Volvo and Volvo Cars have been involved in OD along with several other companies.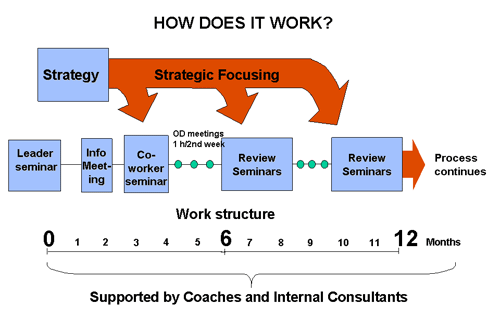 THE OD-PROCESS IS CHARACTERIZED BY:
It increases everyone's energy towards key strategic challenges.
It establish a workstructure where everyone is involved in improving and developing the company.
It is designed to develop and enhance the internal and external customer-supplier relationships.
It is an "on the job" development program for managers, leaders and teams.
It's fondations is based on a solid support structure that secures long-term viability and success.
It is a tool for top-management to achieve increased strategic manoeuverability.